Single Setting Torque Wrenches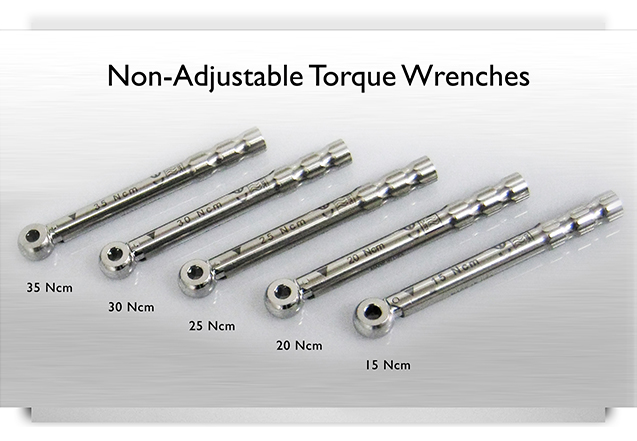 AFFORDABLE.
EASY TO USE.
ACHIEVES CONSISTENT PRE-LOADING OF IMPLANT ABUTMENTS AND SCREWS.
EASY MAINTENANCE – STAINLESS STEEL – STERILIZE BY AUTOCLAVE OR CHEMCLAVE.
Tightening with the correct torque minimizes the risk of the screw working loose and improves the precision
during bridge fabrication. Torque control can also reduce the risk of stress being built into the restoration and
prevent component fractures.
The Single Setting Torque Wrench is a pre-calibrated torque wrench system that prevents over and under
tightening of implant screws and abutments. It is availabale in 10Ncm, 15Ncm, 20Ncm, 30Ncm and 35Ncm
settings to meet the needs of a variety of implant systems. An assortment of drivers fit all the hex or slot head
screws regardless of implant type.
Easy to use
Insert the screw or abutment into the implant with the driver and tighten with finger pressure. Remove the driver
and place into the Single Setting Torque Wrench. Pre-load the screw by using the wrench in the same way as
a ratchet wrench. The wrench clutch will disengage when the pre-calibrated torque is applied.
| | | |
| --- | --- | --- |
| | | |
| Drivers fit all hex or slot head screws regardless of implant type | | Shaft releases from head discontinuing torque drive at optimal pre-load |