The Fully Adjustable Precision Torque Wrench
The PreciseTM Adjustable Torque Wrench

"100% rated it excellent or good and worthy of trial by colleagues"
Evaluated by an independent non-profit dental education and product testing foundation. Full data is available upon request.
Click here to see ITL DENTAL's Adjustable Torque Wrench Video
Features
CE Mark
Autoclavable
Ratchet Mechanism
9 Torque Settings
15, 20, 25, 30, 35, 40, 45, 50 and 60 Ncm
Torque settings lock into select Location for accuracy and repeatability
Ratchet clutch disengages (slips) when torque is applied to avoid over torquing
Torque settings are provided for use with all implant designs
Wrench head accepts the standard 4mm square connection
Torque Control
The PreciseTM Adjustable Torque Wrench has been designed with 9 distinct torque settings. A simple twist of the handle locks in precision-engineered torque values guaranteeing accuracy and repeatability.
Tightening with the correct torque minimizes the risk of the implant screw working loose and improves precision during bridge fabrication. Exact torque control also reduces the risk for stress being built into the restoration and prevents component fractures.
Ease of Use
Insert the screw or abutment into the implant with the appropriate driver and thumb knob manually and tighten with finger pressure. Make the final seat using the PreciseTM adjustable torque wrench with the recommended torque setting provided by the implant system manufacturer. Pre-load the screw or abutment by using the torque wrench in the same manner as a conventional ratchet wrench. The wrench will slip when the selected torque is applied.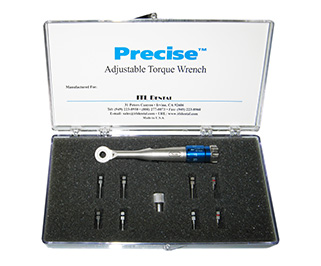 Adjustable Torque Wrench Standard Kit
The standard kit comes with one (1) adjustable torque wrench, one (1) thumb knob and eight (8) drivers: Long (12.5mm shaft) and short (6.5mm shaft) drivers in: .048 Hex, .050 Hex, NobelBiocare Torx and ITI/Straumann Torx. The kit can be customized with up to 12 drivers.
The standard kit can be used for the majority of major implant systems.
All parts are available separately.
Click here to see photos of Drivers and Adaptors